Along with acting and directing, I also build puppets. I have designed and created original puppets for "Weirdos", "The Annoyance Christmas Pageant", "It Came from Kentucky" as well as a production of "Purple Rain: The Musical" at the Neo Futurarium.
If you'd like to see several of these characters in action, head over the Videos page of the website!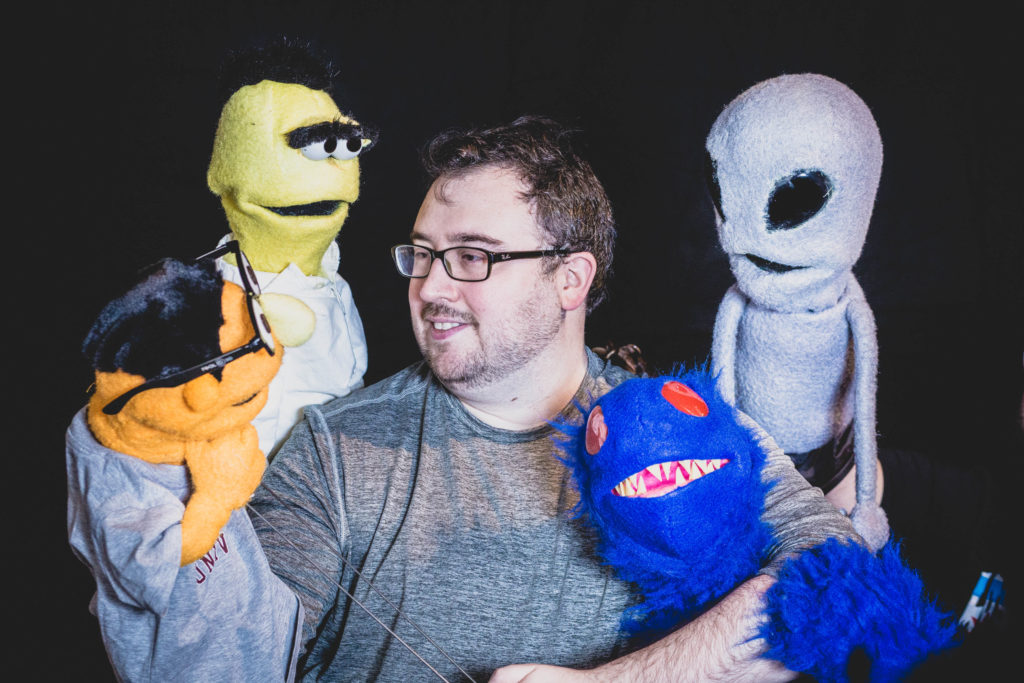 In 2022 I was contacted by Burn The Boats, a video marketing agency here in Chicago, about an ad campaign for Flawless Face Pillow! The campaign was for "Breaking up with your old pillow" and I was commissioned to build a pillow puppet (along with a stunt pillow for certain shots) and puppeteer live on set! Below are shots of the puppets from the commercial!
Years ago, i built a Grey Alien puppet that we wound up naming Martin. After some refining, we made a short film where he starred as Superman. These were test shots taken in 2019 to see how he would look in his costume as both Clark Kent AND Superman. (Photos by Nikki Loehr. Puppeteer: Sam Locke)
Custom puppet based on the character Slimer from the film Ghostbusters. Designed, Patterened and Built by myself. (Photos by: Courtney McNally. Puppeteers: Sam Locke and Noah Ginex)
Monster. Designed by myself and Lee Fleming of Nashville, TN. Fur is from Puppet Pelts. Skin is a balloon rubber/acrylic mixture.
(Photos by Jeremy Kanne. He can also be found on Instagram and Facebook)
(Photos by Evan Mills)
The aliens from It Came from Kentucky! from the Annoyance Theatrethe Annoyance Theatre (Photos by: Molly Kom. Puppeteers: Tahnee Lacey, Tony McNamara, John Horton. Actors: Marybeth Kram, Amy Young.)
Puppet photos by Brittany Mitchell and David DeVries
Over The Rainbow Music Video (photos by Peter Robards):
(Puppeteers: Sam Locke, Josh Zagoren, Andrew Marchetti.  Not Pictured, Tahnee Lacey)
"The Weirdos of Oz" : a fun take on "The Wizard of Oz" in its many incarnations. I'd already built the Scarecrow for my "Over the Rainbow Video" and am using Gibson the Westie as Toto.  The following are pictures from opening day, taken by Molly Kom
Press Photos by Brittany Mitchell

If you're interested in custom puppets, please email me at booking@samclocke.com and we can discuss!